Über AP News WireVor 59 Minuten
Der ikonische Wandteppich von Picassos 'Guernica' ist von der UN verschwunden
Der ikonische Wandteppich von Pablo Picassos "Guernica" ist von seinem Ehrenplatz außerhalb des UN-Sicherheitsrates im Hauptquartierkomplex der Vereinten Nationen mit Blick auf den New Yorker East River verschwunden
Der ikonische Wandteppich von Pablo Picassos "Guernica" ist von seinem Ehrenplatz außerhalb des UN-Sicherheitsrates im Hauptquartierkomplex der Vereinten Nationen mit Blick auf den New Yorker East River verschwunden .
Das Gemälde "Guernica", das von vielen Kunstkritikern als eines der Meisterwerke Picassos angesehen wird und als das vielleicht mächtigste Antikriegsgemälde der Geschichte gilt, hängt im Museo Reina Sofía in Madrid. Der von Atelier J. de la Baume-Durrbach gewebte Wandteppich des Gemäldes galt als perfektes Kunstwerk für den Sicherheitsrat, das mächtigste Gremium der Vereinten Nationen, das für die Gewährleistung des internationalen Friedens und der internationalen Sicherheit zuständig ist.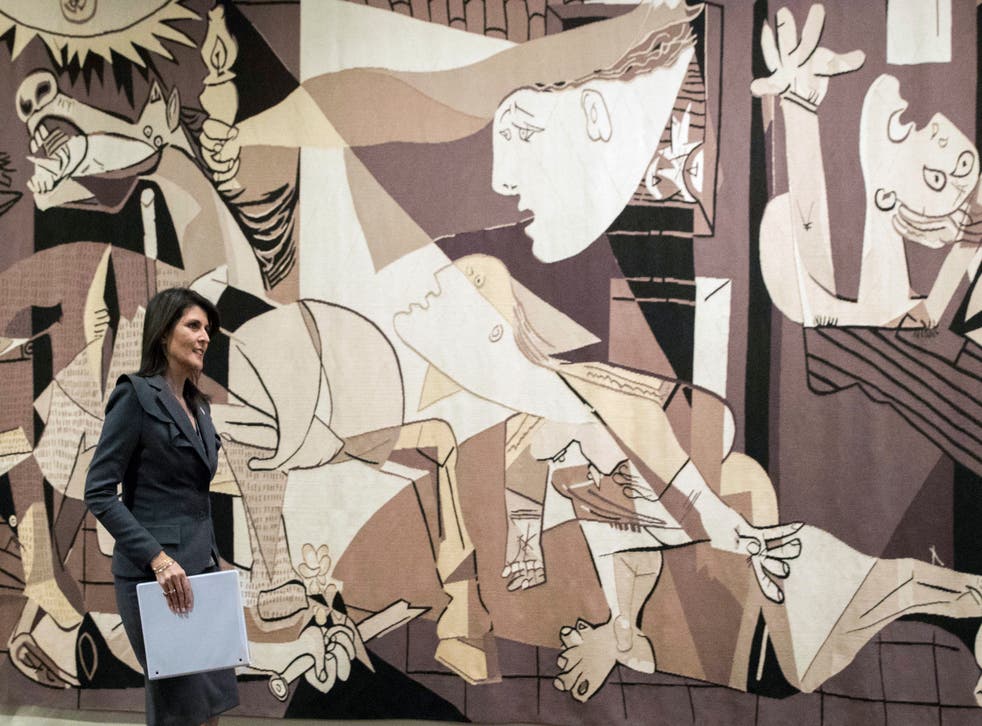 United Nations-`Guernica 'ist vorbei (Copyright 2018 The Associated Press. Alle Rechte vorbehalten.)
Die Vereinten Nationen sagten in einem Brief an den Sicherheitsrat, den The Associated Press am Donnerstag erhalten hatte, dass der Wandteppich 1955 vom ehemaligen US-Vizepräsidenten und New Yorker Gouverneur Nelson Rockefeller in Auftrag gegeben und der UNO 1984 als Leihgabe angeboten wurde.
Die Familie Rockefeller spendete das Land für den Bau des UN-Komplexes, nachdem der Weltkörper nach den Worten der UN-Charta auf der Asche des Zweiten Weltkriegs gegründet worden war, "um nachfolgende Generationen vor der Geißel des Krieges zu retten".
Während der Renovierungsarbeiten am UN-Gebäude, die 2009 begannen, wurde der Wandteppich zur sicheren Aufbewahrung an die Rockefeller Foundation zurückgegeben. Es wurde im September 2013 nach Abschluss der Renovierungsarbeiten neu installiert, wie aus dem Schreiben der Stabschefin von UN-Generalsekretär Antonio Guterres, Maria Luiza Viotti, hervorgeht.
"Herr. Nelson A. Rockefeller Jr., dem der Wandteppich "Guernica" gehört, hat kürzlich die Vereinten Nationen über seine Absicht informiert, ihn wiederzugewinnen ", schrieb sie am Mittwoch. "Nach seiner Benachrichtigung wurde der Wandteppich Anfang dieses Monats an Mr. Rockefeller zurückgegeben."
Rockefeller ist der Sohn des verstorbenen Nelson Rockefeller und seiner verstorbenen Frau "Happy".
Viotti sagte, die UNO werde ihr Kunstkomitee Optionen für Kunst prüfen lassen, um "Guernica" zu ersetzen und die jetzt leere gelbe Wand vor der Kammer des Sicherheitsrates zu füllen.
"Ich mache Sie auf diese Angelegenheit aufmerksam, angesichts der herausragenden Lage des Wandteppichs" Guernica "und seiner ikonischen Verbindung mit dem Sicherheitsrat", sagte sie.
Quelle/AP/independent.co.uk/un/NY