By:Kristle Lee Lynch , MD,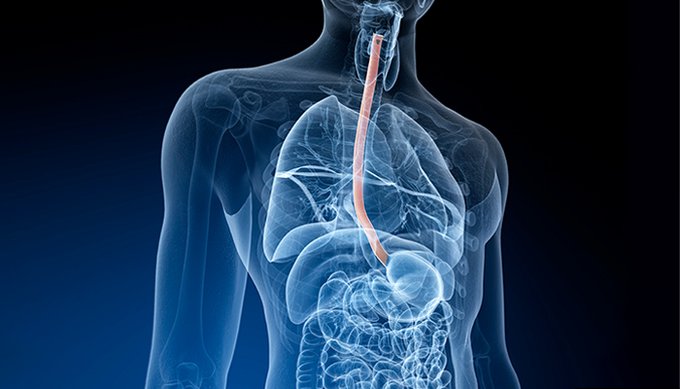 Von : Kristle Lee Lynch , MD, Perelman School of Medicine an der University of Pennsylvania Final Peer Review / Revisionsdatum Mai 2018
Behandlung von Erschwerte Nahrungsaufnahme im Zusammenhang mit dem Kehlkopffunktion
USA,- Eine eingeschränkte Ernährung im Rachen behindert die Nahrungszufuhr vom oberen Teil des Rachens in die Speiseröhre (die hohle Röhre, die den Rachen [Rachen] mit dem Magen verbindet). Normalerweise ist es schwer zu schlucken ( Schluckbeschwerden ). Wenn Sie an einer Ernährungsstörung im Rachen leiden , fließt die Nahrung oft aus dem Nasenrücken zurück oder inhaliert in Ihre Luftröhre, was zu Husten führt. Rachenernährungsstörungen treten am häufigsten bei Patienten mit eingeschränkter Halsmuskulatur und der sie steuernden Nerven auf.
So funktioniert die Speiseröhre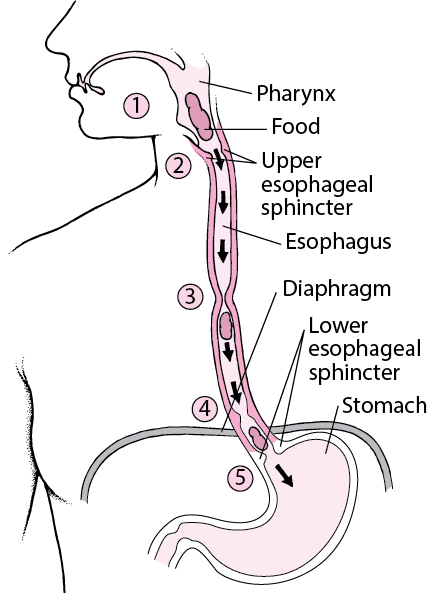 Die verschluckte Nahrung wandert vom Mund in den Rachen (Rachen) (1). Der obere Ösophagussphinkter öffnet sich, so dass Nahrung in die Speiseröhre gelangt (2), und in der Speiseröhre schiebt die wellenförmige Kontraktion der Muskeln, die Peristaltik genannt wird, die Nahrung nach vorne (3). Die Nahrung gelangt dann durch den unteren Ösophagussphinkter (4) und in den Magen (5).
Die häufigsten Ursachen für Halsmuskel- und Nervenschäden sind: Schlaganfall
Andere Krankheiten, die die Muskeln und Nerven des Rachens betreffen können , sind Dermatomyositis , systemische Sklerose , Myasthenia gravis , Muskeldystrophie , Kinderlähmung , Pseudobulbärparese, Parkinson-Krankheit und amyotrophe Lateralsklerose (Lou-Gehrig-Krankheit) und so weiter. Phenothiazine, eine Art von Arzneimittel zur Behandlung bestimmter schwerer psychischer Erkrankungen, können die Funktion der Halsmuskulatur beeinträchtigen und Dysphagie verursachen .
Bei einer krikopharyngealen Dysfunktion bleibt der obere Ösophagussphinkter (der M. cricopharyngeus) geschlossen oder öffnet sich unkoordiniert mit dem Schlucken. Eine abnormale Schließmuskelfunktion kann dazu führen, dass Nahrung mehrmals in die Luftröhre und die Lunge gelangt, was zu häufigen Lungeninfektionen und schließlich zu einer chronischen Lungenerkrankung führt.
Der Schließmuskel kann operativ eingeschnitten und dauerhaft entspannt werden. Unbehandelt kann die Schleimhaut der Speiseröhre durch die cricopharyngealen Muskulatur nach außen oder nach hinten gedrückt werden, um ein sackartiges Zenker-Divertikel zu bilden .
Weiter Information besuchen sie https://twitter.com/KristleLynchMD @KristleLynchMD
Quelle/pennmedicine.org