Ein Mann und ein Mädchen gehen am Sonntag, dem 27. Dezember 2020, in Great Barford in Bedfordshire, England, durch das Hochwasser. Winde mit Hurrikanstärke von bis zu 170 km / h und Regenstürme schlugen in Teilen Großbritanniens ein und störten Zugverkehr und Strandung von Fahrern im Hochwasser. Die Isle of Wight sah Sturm Bellas stärkste Winde bei 106 Meilen pro Stunde, während Teile der Südküste von England und Nordwales auch Böen von ungefähr 80 Meilen pro Stunde (129 Meilen pro Stunde) sahen. (Joe Giddens / PA über AP)
Hurricane-Force windet bis zu 106 Meilen pro Stunde Teig Teile von Großbritannien.
LONDON, – Hurrikanwinde mit einer Geschwindigkeit von bis zu 170 km / h und schwere Regenstürme haben am Sonntag Teile Großbritanniens heimgesucht, den Zugverkehr unterbrochen und die Fahrer im Hochwasser gestrandet.
Auf der Isle of Wight erreichten Storm Bellas stärkste Böen 106 Meilen pro Stunde, während Teile der Südküste Englands und Nordwales auch Böen von rund 129 km / h sahen. Überschwemmungen auf den Gleisen verursachten Zugausfälle und Verspätungen in Südengland, und eine Hauptbahnlinie nach London wurde von einem umgestürzten Baum blockiert.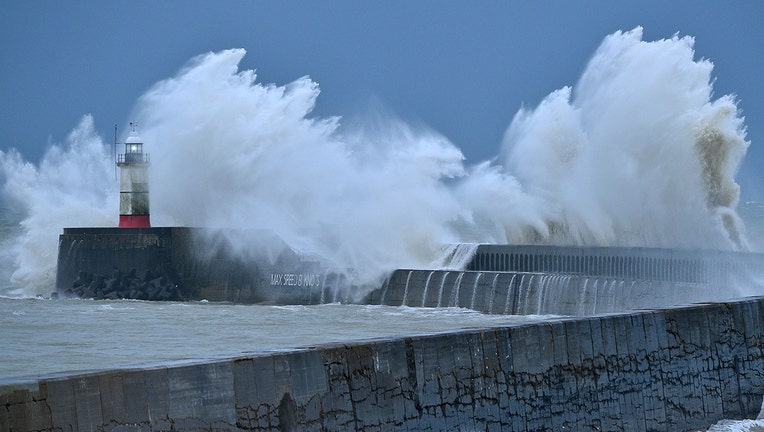 In Wales sagte Western Power, der Sturm habe Stromausfälle für 21.000 Haushalte verursacht. Die meisten Dienste wurden am Sonntag wiederhergestellt, aber 1.700 Haushalte hatten noch keine Stromversorgung.
Am Weihnachtstag mussten rund 1.000 Menschen aus einem überfluteten Wohnwagenpark in Northampton evakuiert werden, da starker Regen das Gelände überflutete. In der Gegend bleiben schwere Hochwasserwarnungen, die auf eine potenzielle Lebensgefahr hinweisen.
Hurricane-force winds up to 170 kph batter parts of Britain | CTV News
Auf der anderen Seite des Kanals war fast ganz Frankreich am Sonntag einer Sturmwarnung ausgesetzt, mit Windgeschwindigkeiten von bis zu 145 km / h auf der Spitze des Eiffelturms in Paris und starken Regenfällen und Böen an der Atlantikküste, so der nationale Wetterdienst und Versorgungsleistungen. Die Stürme haben den Strom für mindestens 12.000 Haushalte in der Bretagne, der Normandie und anderen nordfranzösischen Regionen abgeschaltet.
Quelle/AP/ctv