Lateinamerika Amazonien Brasil
Waldbrände in Amazonien – Bolsonaro schiebt die Schuld auf Umweltschützer
22.08.2019 • 08:14 Uhr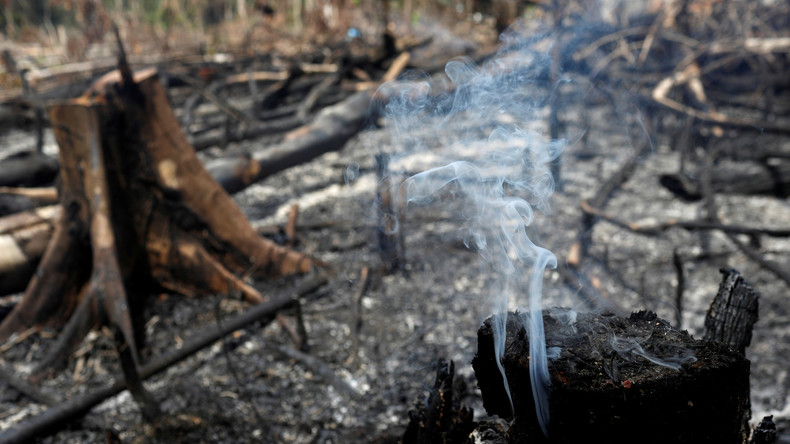 Quelle: ReutersWaldbrand im Bundesstaat Amazonas am MittwochFolge uns auf
Im brasilianischen Amazonasgebiet wüten gewaltige Waldbrände, die schwersten seit Jahren. Brasiliens Präsident hat schon einen Schuldigen ausgemacht: Umweltschützer, denen man die Zuschüsse gekürzt habe, gingen so gegen die Regierung vor. Diese reagieren empört.
In der Amazonasregion in Brasilien wüten seit Wochen die schwersten Waldbrände seit Jahren. Wie die Zeitung Folha de S. Paulo berichtet, nahmen Feuer und Brandrodungen im Land seit Januar im Vergleich zum Vorjahreszeitraum um 83 Prozent zu. Insgesamt seien 72.843 Brände registriert worden, in den meisten Fällen auf Privatbesitz, aber auch in Naturschutzgebieten und indigenen Ländereien.
Gabriel Santos-Gonzalez   @GonzalezSolis16
SHAME ON THEM ITS A FUCKING SHAME !!! OUR PLANET Deserves better than this, WE deserve better than this
Auf Satellitenbildern sind die Brände deutlich zu erkennen. Der Bundesstaat Amazonas rief bereits Anfang August den Notstand aus; andere Regionen befinden sich in Alarmbereitschaft. Generell sind vor allem die Gebiete betroffen, in denen die Entwaldung und die landwirtschaftliche Nutzung der Flächen vorangetrieben wird. Auf Twitter finden sich unter dem Hashtag #PrayforAmazonas eindrückliche Bilder der Zerstörungen.


We can't see them bleed #saveamazon #PrayforAmazonas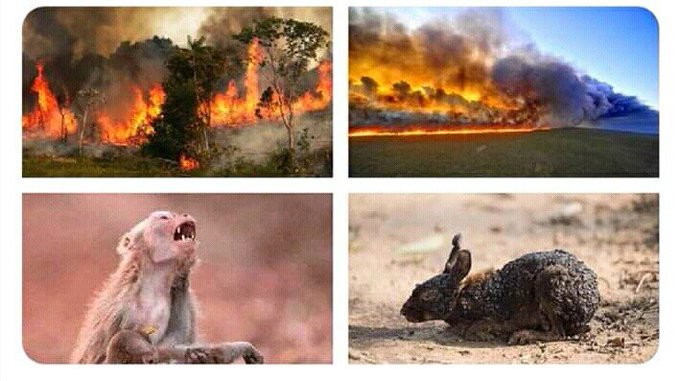 107:30 – 22. Aug. 2019Twitter Ads Info und DatenschutzWeitere Tweets von nitin raj ansehen
Pictures of Amazon forest on fire.#PrayforAmazonas
30005:31 – 22. Aug. 2019Twitter Ads Info und Datenschutz534 Nutzer sprechen darüber
Mehr zum Thema – Brasiliens Präsident Bolsonaro an Merkel: "Nehmen Sie die Knete und forsten Sie Deutschland auf!"
Andrés #HandsOffEverywhere@ADxtrJuseniorit
Let's talk about #PrayforAmazonas and why is false-flag:

Bolsonaro and corporations did this
Bolsonaro did agreements with Progre side
Corporations will use Greta Thunberg to blame people for this
Nothing say about indigenous people

Divide et impera 16317:33 – 21. Aug. 2019Twitter Ads Info und Datenschutz160 Nutzer sprechen darüber
Der brasilianische Präsident Jair Bolsonaro wies die Verantwortung für die Waldbrände in der Amazonasregion unterdessen Umweltschützern zu. Diese legten Brände, um sich für die Kürzung von Zuschüssen zu rächen. Am Mittwoch erklärte Bolsonaro:
Wir nehmen den Nichtregierungsorganisationen ihre Zuschüsse, wir haben die Überweisungen der Regierungsstellen eingestellt. Jetzt fehlt ihnen das Geld. (…) Es kann also sein, dass diese Organisationen gegen mich persönlich und die brasilianische Regierung vorgehen. Das ist der Krieg, in dem wir uns befinden.
Beweise für seine Behauptungen legte er nicht vor. Umweltschutzverbände wiesen die Vorwürfe Bolsonaros empört zurück. Carlos Bocuhy, Präsident des Instituts für Umweltschutz (Proam), erklärte gegenüber dem Nachrichtenportal G1:
Diese Behauptung des Präsidenten ist unverantwortlich, Ziel der NGOs ist es, die Umwelt zu schützen. Es hat keinen Sinn, zu behaupten, wir hätten das Feuer gelegt. Das ist eine große Absurdität.

quellen//Medienagenturen,rt//andren