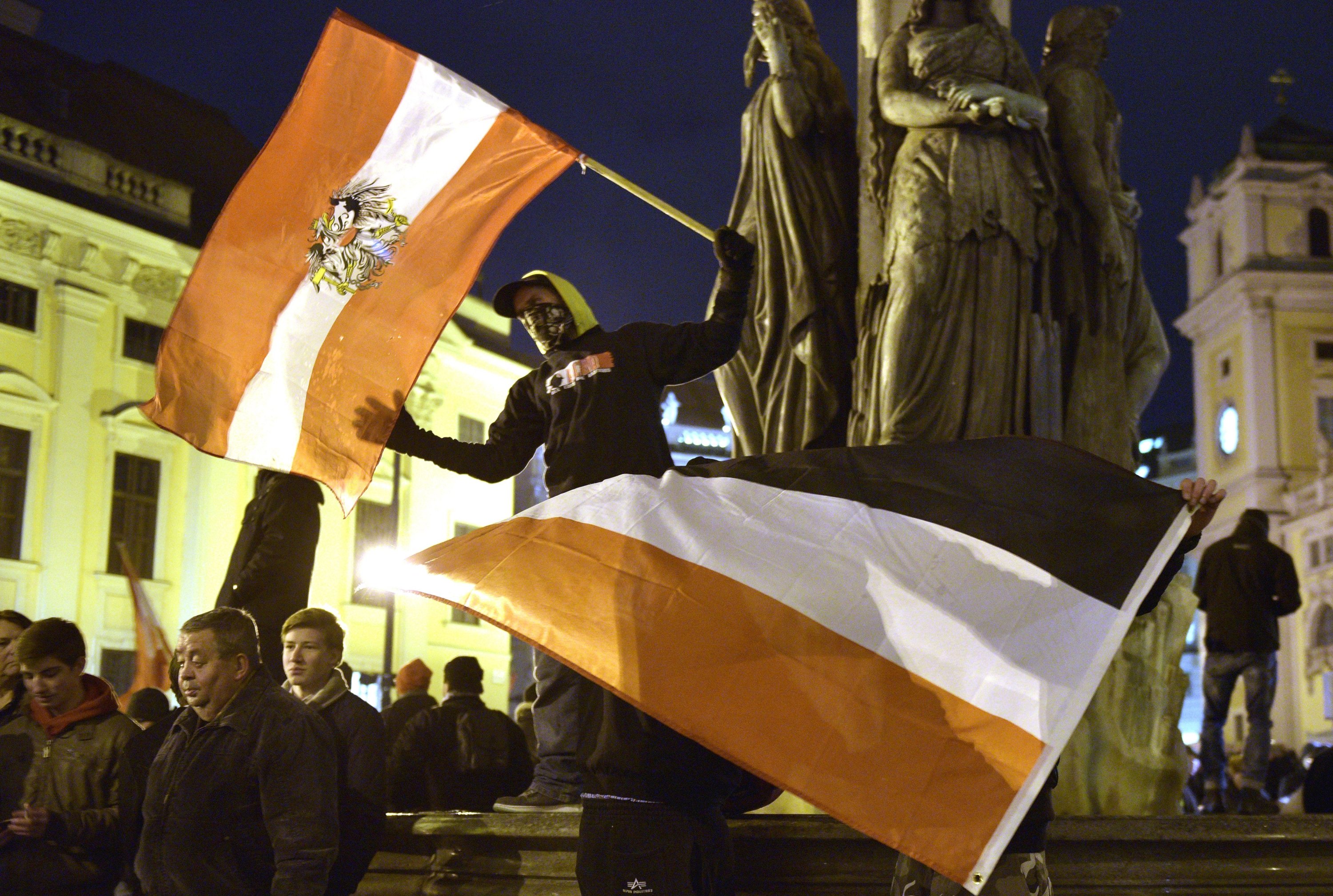 VON DAILY SABAH WITH AGENCIES/Demonstranten schwenken Flaggen und zeigen Banner während einer Kundgebung der Gruppe Patriotische Europäer gegen Muslime, Wien, Österreich, 2. Februar 2015. (AP Photo)
Laut NGO nehmen rassistische Angriffe gegen Muslime in Österreich erheblich zu.
Österreich,-Die Zahl der rassistischen Angriffe gegen Muslime hat in Österreich erheblich zugenommen, teilte die größte Nichtregierungsorganisation (NRO) des Landes am Mittwoch mit, nachdem ein Mann, der zuvor versucht hatte, sich der in Wien bewaffneten Terrorgruppe Daesh anzuschließen, mit einem automatischen Gewehr und einer gefälschten Sprengweste bewaffnet war. tödlich vier Menschen erschossen, bevor er von der Polizei getötet wurde.
Laut der ZARA (Civil Courage and Anti-Racism Work), die in Österreich antirassistische Arbeit leistet, haben die rassistischen Vorfälle gegen Muslime in den letzten zwei Wochen nach dem tödlichen Angriff Anfang November zugenommen.
Die Vertreterin des ZARA-Verbandes, Caroline Kerschbaumer, teilte dem österreichischen öffentlich-rechtlichen Sender ORF mit, dass nach dem Terroranschlag in Wien in etwa 15 Tagen mehr als 80 rassistische Vorfälle gegen den Islam verzeichnet wurden.
Kerschbaumer erklärte, dass die rassistischen Angriffe gegen Muslime in direktem Zusammenhang mit dem Terroranschlag in Wien stehen und dass Frauen mit Kopftuch von Angreifern sowohl auf der Straße als auch auf digitalen Plattformen angegriffen werden.
Die österreichischen Behörden haben den Angreifer als den 20-jährigen Kujtim Fejzulai identifiziert, einen Doppelstaatsangehörigen aus Österreich und Nordmakedonien, der zuvor wegen des Versuchs, sich dem Daesh in Syrien anzuschließen, verurteilt worden war und im Dezember vorzeitig freigelassen wurde.
Es wurde untersucht, warum Österreich Fejzulai nicht beobachtet hat, obwohl die slowakischen Behörden darauf hingewiesen hatten, dass er im Juli in einem Geschäft in Bratislava versucht hatte, Sturmgewehrmunition zu kaufen.
Quelle/ds/Agenturen